RE in our school
In each class, the children learn about specific RE topics of work alongside work that links with our current Assembly theme, covering 1 of our 7 values. Each class displays these activities as well as in their classrooms and other display areas such as the school hall. For further details on the topics studied in each class, please refer to Class specific pages or to the RE curriculum section of the website by clicking here:
For the Summer term, our focuses in RE will be Stories Jesus Told, Special Places and Special Times.
We will be looking specifically at stories Stories Jesus Told, in particular at the Bible Stories; The Good Samaritan and The Sower. We will be exploring these in a similar way to the stories Jesus may have heard, which we studied last term.
We will then move on to Special Places, exploring where we might consider a special place to us - this can be our homes, the classroom, a place we might visit on holiday and then discussing why it is special. We will also be talking to Father Ian and visiting church to find out why church is considered a special place. We will also be looking at a variety of other Holy places including a Mosque and a Temple and why these places are also considered special.
Ending the year, our final unit in RE will be Special Times. We will be developing our understanding of special/holy times, and increasing our knowledge of the way special times are celebrated and remembered. We will also be exploring the story of Pentecost and God as a Holy Spirit.
This term we will also be looking at the Christian Values of JUSTICE and PERSEVERANCE.
For our final term in school, our religious focus will be on My World, Jesus' World (comparing present day with the time when Jesus was alive). We will be exploring clothes, food, entertainment and also stories which may have been told by Jesus or to Jesus - linking to what we learnt in Reception. We will also be exploring the questions, Why is baptism special? We will be sharing our own experiences of baptism, speaking to Father Ian and visiting church.
Our Christian Values this term are JUSTICE and PERSERVERANCE.
Year 2 Summer 1
In the upcoming half term, we will be learning all about the Christian Value of Justice through whole class worship and discussions in class. In class, we will begin to explore this Christian Value by reading the Bible story 'The Rich Man and Lazarus.'
In RE this half term, in our class RE lessons, we will be reading, studying and sequencing the stories from the New Testament which teach us how Jesus was 'a friend to everyone.' We will be considering the following questions:
How do these stories help us to understand Jesus and the character of Jesus?
I wonder how and why did Jesus did these things to help these people?
Why did he speak to everyone?
What did Jesus want us to learn from his behaviour?
Year 3
This half term's Christian Value is COMPASSION
This half term we are exploring the Christian value of COMPASSION. We have talked about what this might look like in to today's world. We discussed what Jesus's friends were like and how they served Jesus. What can we learn from them? We will be guided to lead a good life and we will be walking in Jesus's footsteps by always showing compassion. We looked closely at scenarios exploring the importance of always showing compassion.
Ephesians 4:32
"Be kind and compassionate to one another, forgiving each other, just as in Christ God forgave you."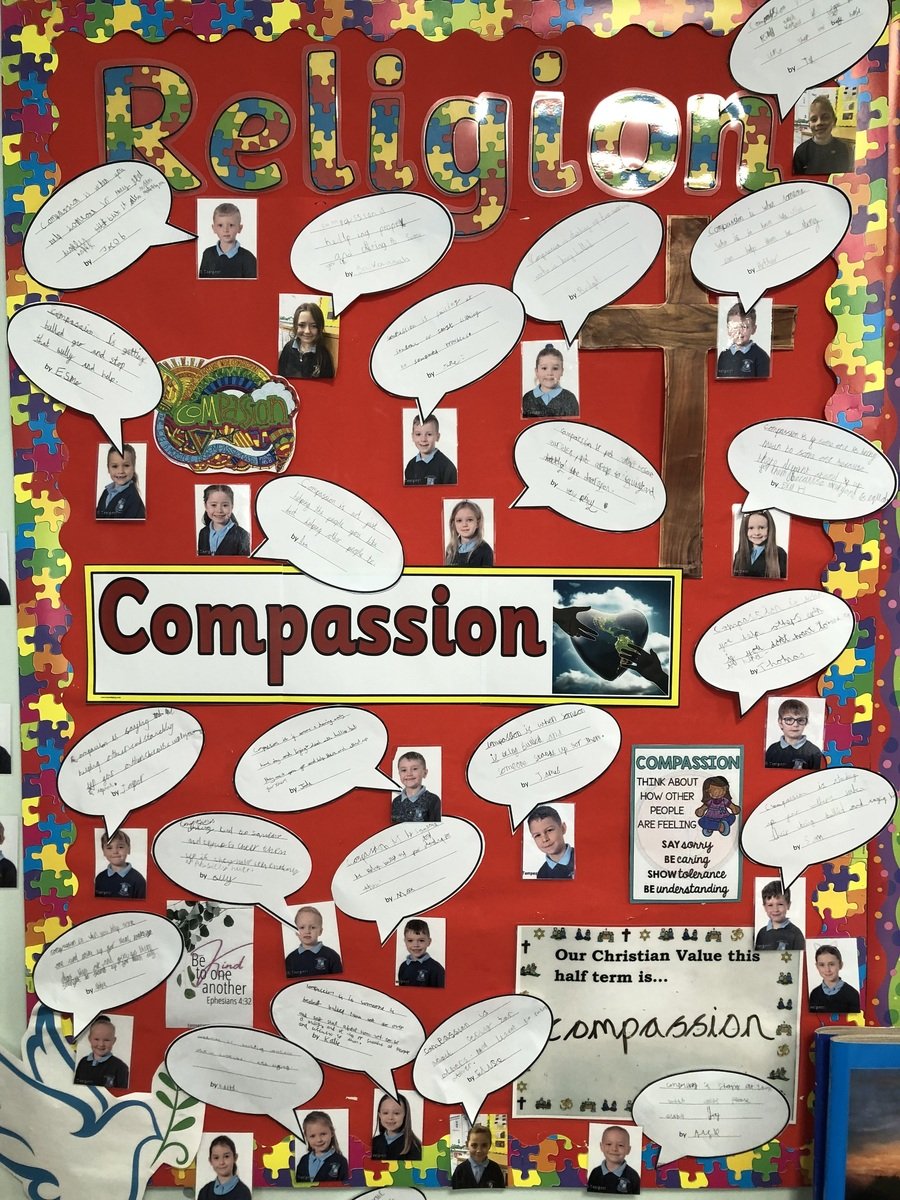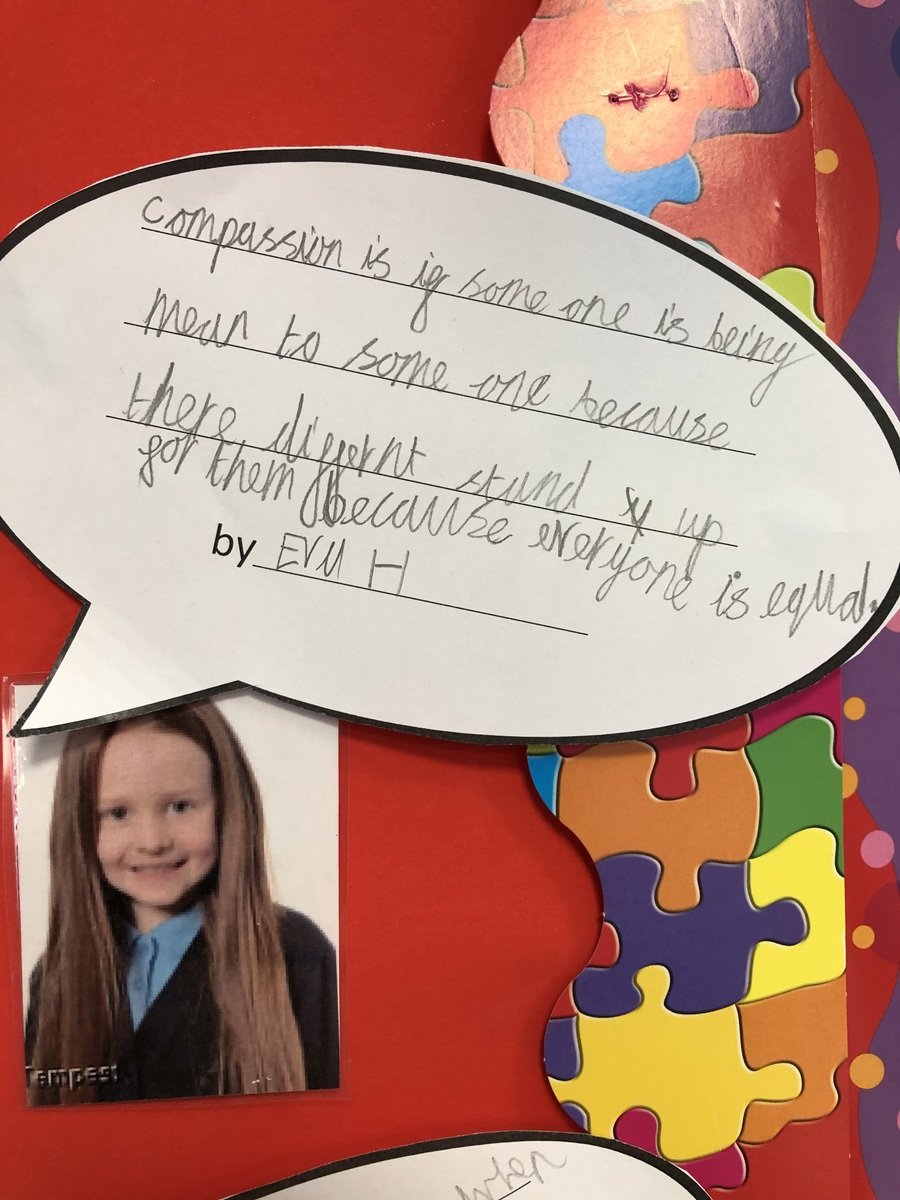 Other Class Work
In addition to this, we have been exploring what it means to be called by God. We discussed that sometimes we are asked to do jobs and this can make us feel special and important. We read the stories of the calling of Moses. We discussed how Moses must have felt to be asked by God to do his work. We enjoyed retelling the story and drawing picture of our own burning bush. We then learnt all about how God asked Moses to deliver the 10 commandments to the people. We enjoyed making 10 commandment posters with opening doors for a class display.
Proverbs 31:8-9
Speak up for those who cannot speak for themselves, for the rights of all who are destitute. Speak up and judge fairly; defend the rights of the poor and needy.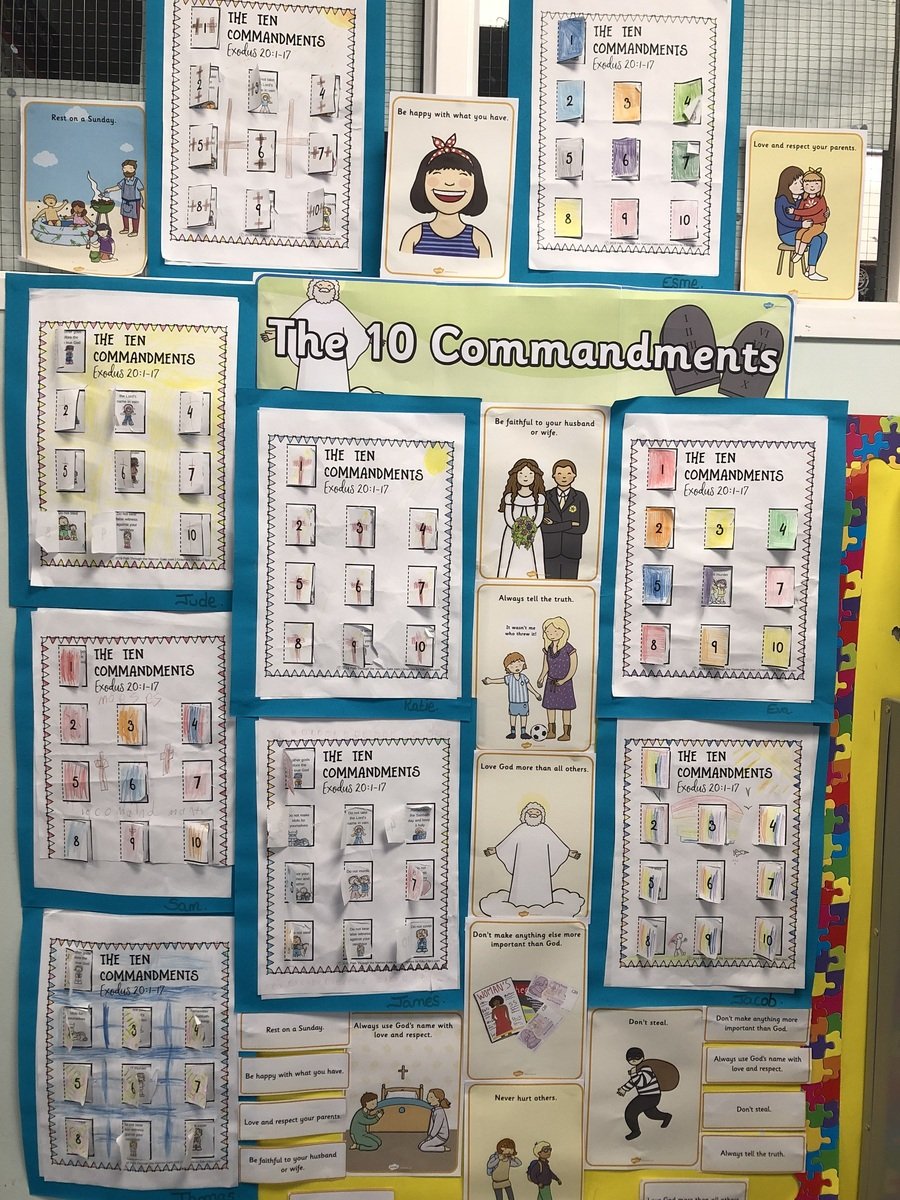 This Summer 1st term, our Christian Value is JUSTICE.
The Bible emphasises that 'The righteous care about justice for the poor' (Proverbs 29:7). Isaiah says: 'Seek justice, encourage the oppressed. Defend the cause of the fatherless, plead the case of the widow' (Isaiah 1:17). Justice is the 'plumb line' by which society is measured (Isaiah 29:17).
Justice is not about a culture which encourages everyone to insist on their own rights at the expense of others. It is about a community that knows that everyone's well-being is bound up with that of everyone else. A commitment to justice leads to opposition to injustice in whatever form it may be found. Justice is a pre-requisite of peace: without justice there can be no peace. As part of our weekly assemblies we will be exploring themes of:
Justice for the poor
Standing up for others when they are treated unjustly
Making a difference
Including others.
In class, our R.E. topic will be - Are all churches the same?

Our Christian Concepts for this topic are;
God – Creation – Fall – People of God – Incarnation – Gospel – Salvation – Kingdom of God

In this unit pupils will deepen their understanding of how the church lives out the GOSPEL and contributes to the building of the KINGDOM OF GOD.

Key Questions

What does 'church' mean? Are all churches the same?
What does it mean to belong to a church?
What have you learned about the church that you didn't know before?
Where do people of other faiths worship? Are they all the same?
Are there any similarities between places of worship? What are the key differences?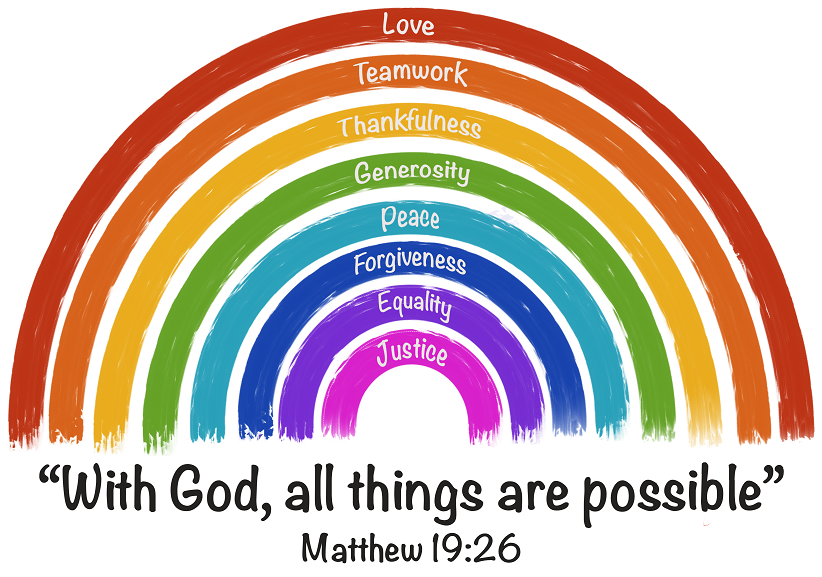 Year 5
Our Christian value in Spring 2 is compassion. We will be exploring what it means to have compassion towards others and ties in nicely with our RE theme that life is a journey. This journey has good times and bad and that as we go through the bad times we trust God will be with us to help and support us.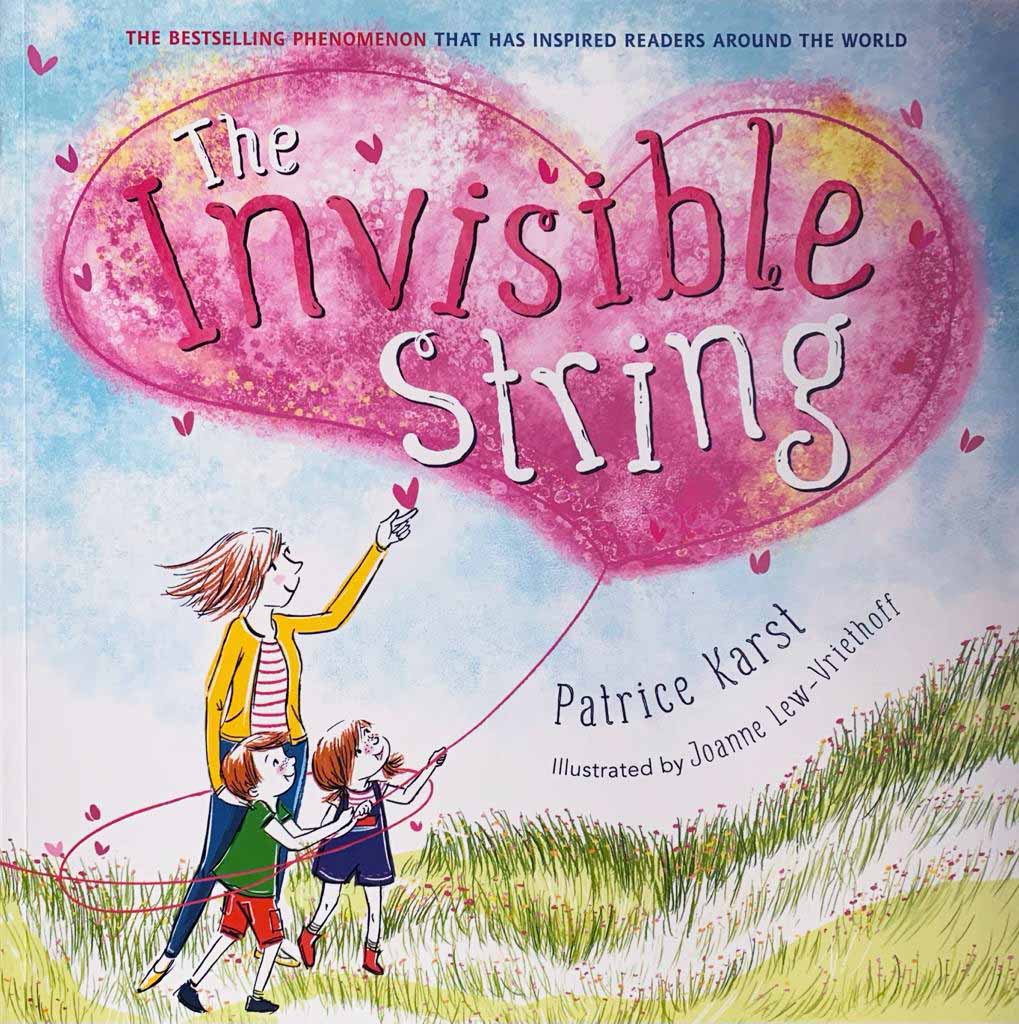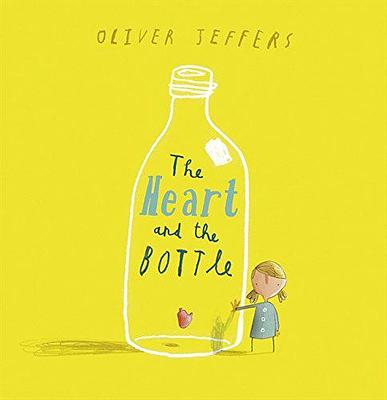 In class we are exploring Loss, Death and Christian Hope. These sessions will look at Christians view death and that as Christians we believe in eternal life with God in Heaven. We will have an 'Ask it Basket' in class where the children can write any questions and Father Ian in his session will address any of our concerns or worries on this sensitive subject.
Year 6
This Spring term in year 6, we will be learning about the importance of TRUTHFULNESS. As Christians, we believe that truth is revealed in the Bible and supremely in the person and life of Jesus Christ. Through Jesus' teaching we are given an insight into the nature of God and the way in which He means us to live.
Jesus said 'I am the way the truth and the life' John 14 v6
How can we demonstrate our value of TRUTHFULNESS?
Be truthful with each other by showing kindness and understanding
Think about how being truthful in life helps us to be better Christians
Sharing our hearts with one another is a great way to be TRUTHFUL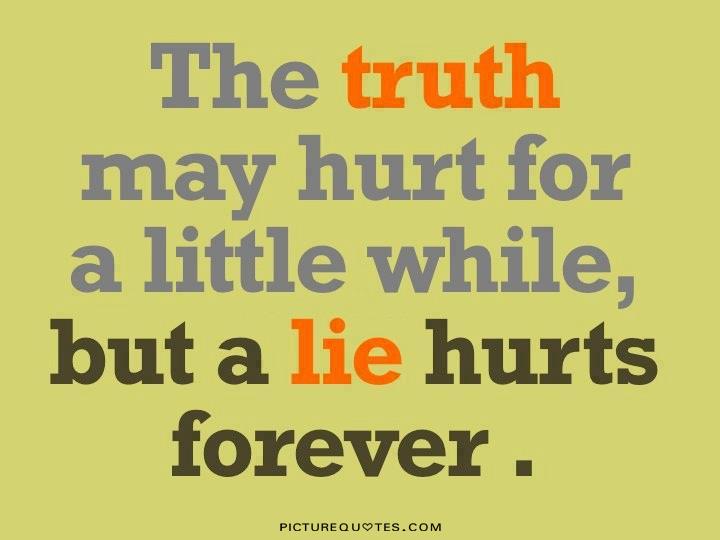 In class we will also be discovering - -Unit 6.6 Ideas about God?
Some of the questions we will be discussing
Key Questions
What words would you use to describe God?

What is the nature and character of God? What images do you have of God?
How is it possible for God to be visible and yet invisible?
Where is God? How old is God?
What is God's name? What makes God happy? What makes God sad?
What does God do all day?
Does God really know everything? How do you know?