READING CAFE MARCH 2023
On Friday 17th March, our Reception families were invited to our very first Reading Cafe before school. We had some yummy snacks and read some amazing books from our KS1 library with our families. Thank you to all our parents and grandparents who came to see us, it was a lovely morning. Special thanks to our Y6 girls who came to help out.
BOOK WEEK 2023
Well done to all our children and staff for their hard work for the past few weeks generating ideas and creating our class books. We certainly have some very talented authors and illustrators and it has been amazing to see such a buzz about English around school. I'm so impressed, well done and thank you again, I can't wait to read them. Check out our wonderful front covers, the QR code in the picture or the flyer that we sent home will take you to the link if you want to pre - order the books.
World Book Day 2023
We've had a great day celebrating World Book and children and staff have really enjoyed coming into school dressed as their favourite book characters. Many thanks to parents for all these fabulous designs and thank you to all staff for choosing such innovative costumes based on our staff theme of Julia Donaldson books. Everyone looked fabulous! We have all been very busy in classes too all week making our own class books. Keep your eyes peeled for the finished article!
Congratulations to this year's winners:
Reception - Max
Year 1 - Jackson L
Year 2 - Anna
Year 3 - Holly
Year 4 - Maxwell
Year 5 - Tia
Year 6 - Roxi
It really was a very tough decision because we all looked magnificent, check out our costumes!
At Holy Trinity, we love reading and we read as many books as we can when and wherever we can! Check out some of the weird, unusual and wonderful places we caught KS1 children reading during the Autumn half term break!
Take a look at some of the lovely work we do in class, all based on fantastic and exciting texts!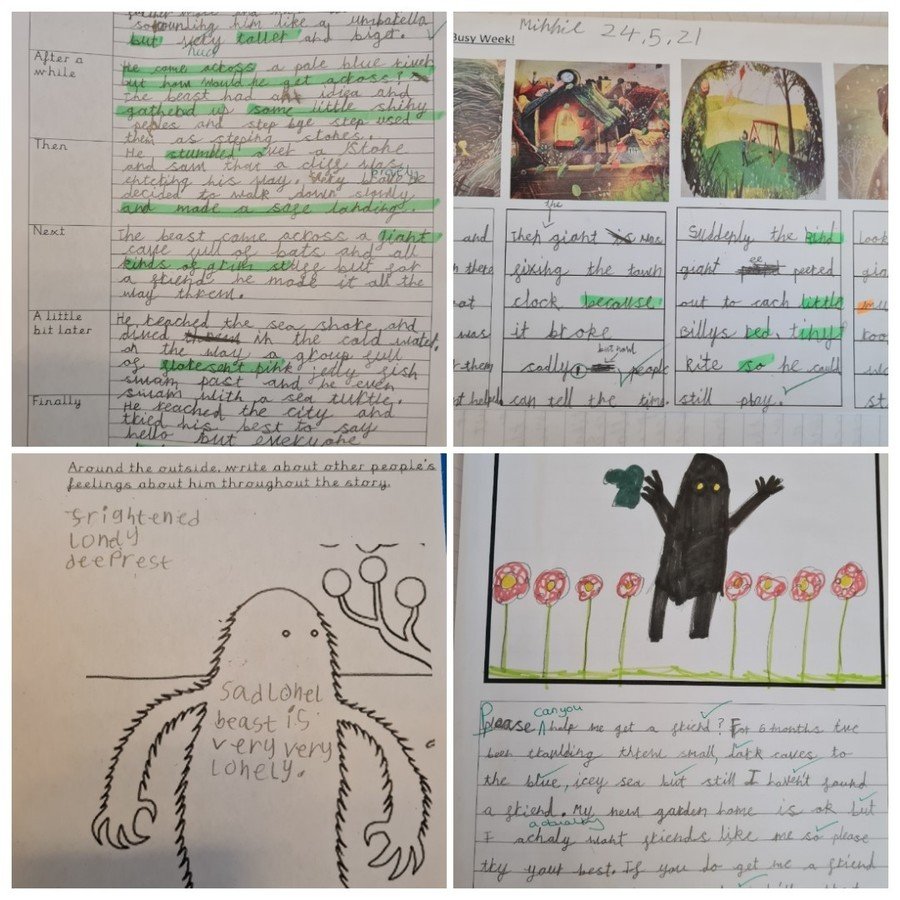 English
Writing
At Holy Trinity, We recognize the importance of nurturing a culture where children take pride in their writing, can write clearly and accurately and adapt their language and style for a range of contexts. We want to inspire children to be confident in the art of speaking and listening and who can use discussion to communicate and further their learning.
We believe that children need to develop a secure knowledge-base in Literacy, which follows a clear pathway of progression as they advance through the primary curriculum. We believe that a secure basis in literacy skills is crucial to a high quality education and will give our children the tools they need to participate fully as a member of society.
From Year 2 upwards, all classes complete daily Spelling specific lessons to revise prior learning, common exception words as well as providing opportunities for children to apply their knowledge of year specific spelling rules to help develop children into confident, independent writers.
We understand that writing is an essential skill and that we must overcome any barriers that prevent children from becoming confident writers.
We aim to help our children develop these skills in the following ways:
introducing and deconstructing a wide variety of model texts, covering a variety of genres
by exposing and highlighting higher level vocabulary
giving children opportunities to write for an authentic purpose • ensuring children have opportunities to talk about and plan their writing
a solid understanding of grammar and ability to use it for effect • giving children opportunity to evaluate, revise and edit their own work as well as offer feedback on the work of their peers
to be able to spell, not only the prescribed spelling words but also beyond, through the teaching of spelling rules
take pride in their work and its presentation, including their handwriting
We believe that these steps will provide children with the building blocks needed for successful writing at secondary school and beyond.
Reading
At Holy Trinity, we aim to instil in all our children a love of reading. We give them the very best start they can have - balancing learning to read with enjoyment of books and other texts. We promote and embed a love for reading for pleasure in a variety of different ways as we recognise the importance of reading and aim for all of our children to become confident independent readers with an excellent understanding of what they read. We believe that reading 'opens the door' to learning, enabling children to access a wider curriculum. Children who read a lot will go on to become lifelong learners.
Check out our class Reading Journeys to see all the high quality and engaging texts your child will be reading this year a little further down this page.
Reading Schemes
In school, we have a range of fiction and non-fiction decodable reading books from the Big Cat Collins reading scheme, which are used throughout school to support children in learning to read are carefully matched to your child's current Phonetic level of understanding, ensuring access to phonetically decodable and engaging texts that support and develop your child as an early reader.
We take a combined approach to matching appropriate levels to the books children read which focuses on not only their decodable ability with words, but also an individual's ability to read fluently and fully understand the books they read. In Reception and KS1, children are assessed half termly to ensure their current reading book matches their phonics level to ensure all books we send home are accessible and also challenging the children to become more confident on their journey to become a fluent reader.
The schemes used to supplement Big Cat Collins include:
Oxford Reading Tree (Floppy's Phonics, Songbirds, Traditional Tales)
Phonics Bug
Project X
Parents and Carers
At Holy Trinity, we understand that reading is important and that parents and carers have a vital role to play in helping children to enjoy and gain success in reading. Reading and sharing stories at home is one of the most important ways that parents can help their child to succeed. We encourage all parents to take the time to hear their children read and talk about the books with them. By showing children that reading is both important and enjoyable at home, this has a positive impact on the attitudes and beliefs and will instill in children the love of reading.
HOLY TRINITY READING JOURNEYS
Each class has produced a Reading Journey document that shows all the texts each class will read and study in the academic year, why we have chosen these books and how they build upon prior learning in previous years. Our teachers have taken inspiration from resources such as Pie Corbett's Reading Spine, Recommended reading lists for each year group alongside keeping up to date with reading forums. These Reading Journeys are a working document, and teachers may add to or replace books according to new recommendations or the interests of the class to help nurture and develop engaged and confident readers.
| Name | |
| --- | --- |
| Reception Reading Journey 2021-22.pptx | Download |
| Year 1 Reading Journey 2021-22.pptx | Download |
| Year 2 Reading Journey 2021-22.pptx | Download |
| Year 3 Reading Journey 2021-22.pptx | Download |
| Year 4 Reading Journey 2021-22.pptx | Download |
| Year 5 new Reading Journey 2021-22.pptx | Download |
| Year 6 Reading Journey 2021-22.pptx | Download |
Showing 1-7 of 7
Phonics and Spelling
At Holy Trinity CE, we recognise reading as a key life skill, which underpins access to the rest of the curriculum. We aim for children to read words and simple sentences by the end of Reception, become successful, fluent readers by the end of Key Stage 1 and develop a lifelong love of reading as they move through school.
The systematic teaching of synthetic phonics, using our bespoke school programme based upon the Twinkl Phonics sequence of teaching, is given a high priority throughout Early Years and Key Stage 1.
Children need to learn key phonic knowledge and develop skills in segmenting and blending to complete the phonics check at the end of Year 1 and as part of developing fluency in reading. We also value and encourage pupils to read for enjoyment and recognise that this starts with the foundations of acquiring letter sounds, segmenting and blending skills – enjoying success and gaining confidence from a positive experience.
By the end of Reception, the aim is for all children to have a secure understanding of Phases 2 and 3 in Phonics and to be able to segment and blend words within these phases, in terms of reading and blending words with graphemes learnt from Phase 3, in order to start Phase 4 at the start of the Autumn term in Year 1. Children are introduced to the 'tricky words' early in the Autumn term in Reception and aim to read and write the high frequency words for Phase 2 to 3 before they enter Year 1.
The aim in Year 1 is to ensure all children have completed Phase 4 and 5 and be ready to begin the No Nonsense Spelling programme upon entry into Year 2. We aim for all children to read and write all the common exception words for Year 1 and Year 2 by the end of their time in Year 2 and complete daily Phonics and Spellings lessons in Year 2 to develop spelling fluency as well as revising Phonetic knowledge too.
Phonics Phases Overview - this document outlines when each Phonics Phase (Level Twinkl Phonics) will be covered and what your child will learn during these phases in their Phonics Journey:
Since September last year, Mrs Gillett and Mrs Earnshaw have been developing YouTube channels to help children in KS1 and lower KS2 become more confident with their phonics, spelling, reading and common exception words by uploading interactive and fun little lessons and mini quizzes - parents have said that these videos have been a fantastic support to them at home as they can explain homework in the same way we do at school.
Why not check them out?
Mrs G's Little Lessons (aimed at Year 1 and Year 2)
https://www.youtube.com/results?search_query=mrs+g%27s+little+lessons
Mrs E Makes it Easy (aimed at Year 3 and 4)
https://www.youtube.com/channel/UCz3gfyomuds9ZBEgTYj1EyA?app=desktop
English Impact Statements 2022-23
Progression Maps
At Holy Trinity, staff have a clear knowledge of what the children need to be able to do within their year group, what they should have learnt the year before as well as what the next steps will be as they progress through school. These progression maps show the progression of skills across Reading, Phonics, Writing and Spelling:
| Name | |
| --- | --- |
| assess-and-progress-in-phonics.pdf | Download |
| HT Phonics skills progression document-2022-23.docx | Download |
| HT spelling progression map.docx | Download |
| HT Writing and Spelling Progression Map.pdf | Download |
| Phonics Progression Map Twinkl Phonics Scheme.pdf | Download |
| reading-progression-1-.pdf | Download |
Showing 1-6 of 6
Promoting a love for reading
At Holy Trinity we aim for all children to fall in love with reading and encourage the children to read for pleasure to enable them to become lifelong readers. The document below shows all the ways we do this across the curriculum: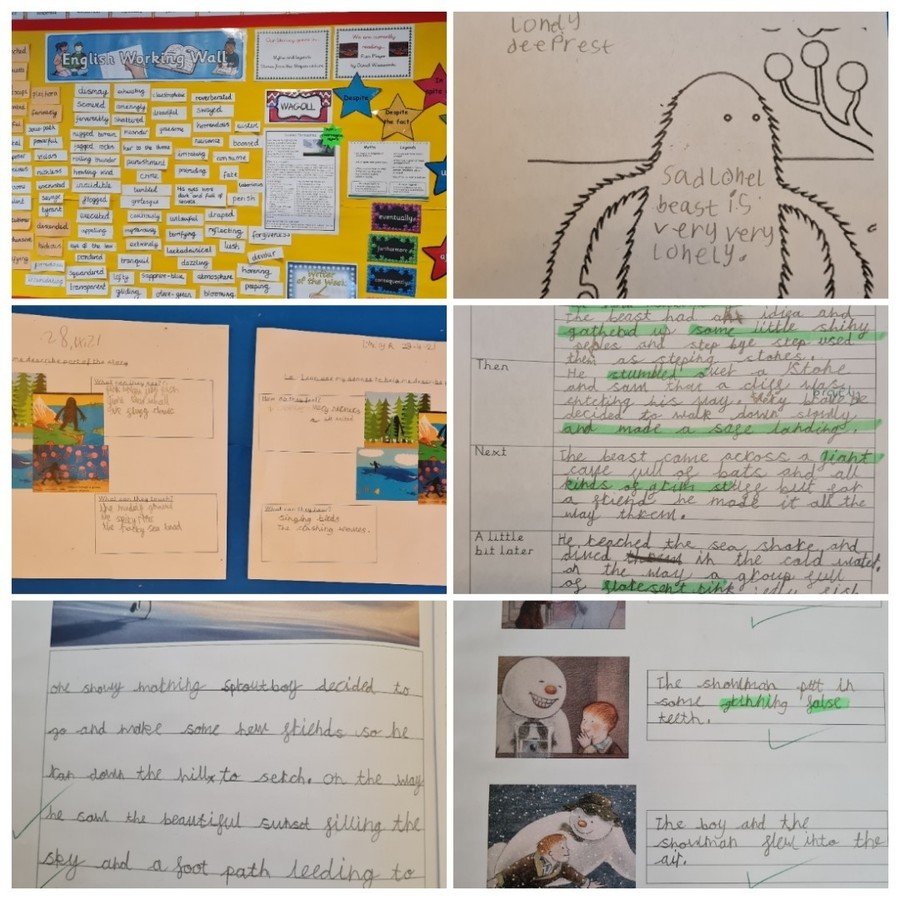 Here are some useful documents that will help support you and your child's learning at home: