General Class Information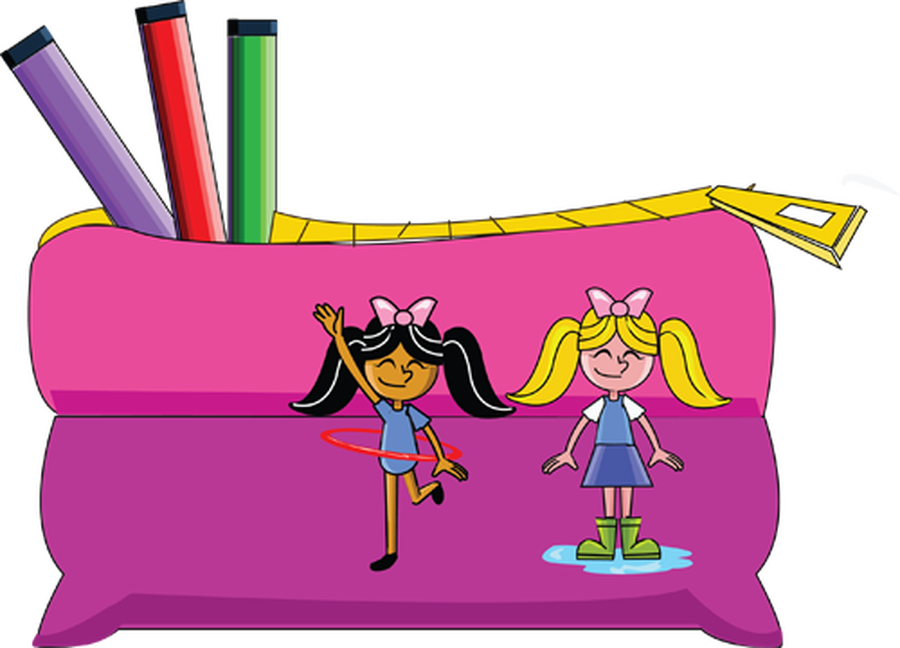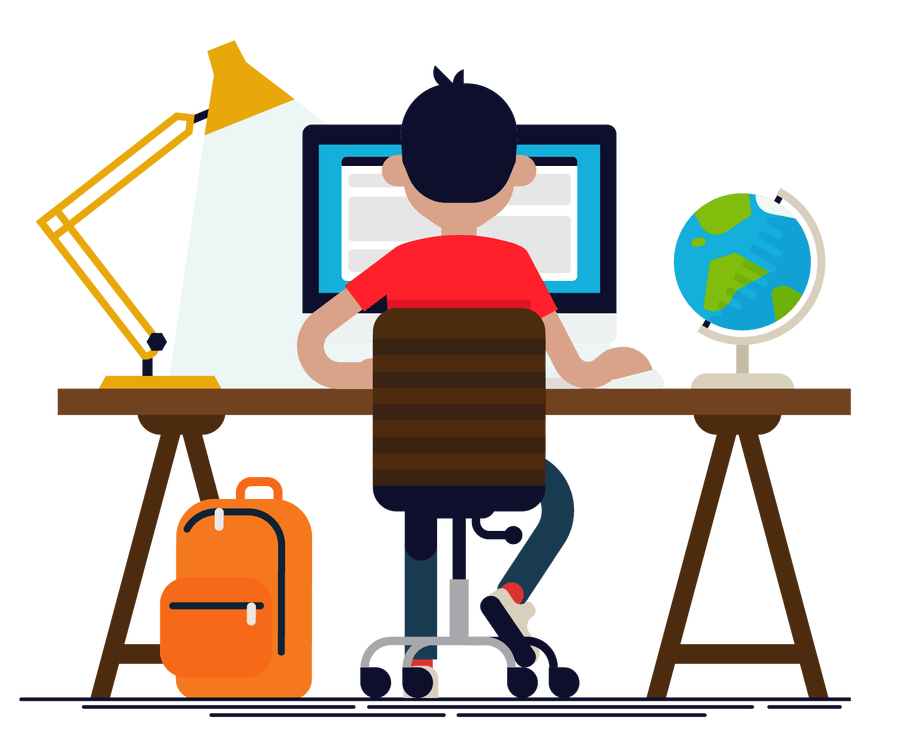 ONLINE LEARNING
15th - 22nd March
If you are self-isolating and working from home, take a look at the maths, English and Phonics work here and have a go at some of them as well as practicing your reading every day if possible. If you have managed to complete all the maths and English work, why not have a look at the activity ideas on the topic grid below? I'd love to see how you get on - share on Seesaw or send over via email.
Please also check on Seesaw for this week's learning log homework, which is all about Grace Darling as well as a spelling list of all the Y2 Common Exception words that I would like you to practice reading and spelling as much as possible.
| Name | |
| --- | --- |
| 2-Alfies-Star.pdf | Download |
| Spring Themed Division by Grouping Activity Sheet.pdf | Download |
| t-l-526175-more-phase-5-phonics-picture-activity-sheet-_ver_4.pdf | Download |
| t-l-6196-phase-5-phonics-picture-activity-sheet_ver_2.pdf | Download |
| t-p-888-what-positives-have-come-from-lockdown-worksheet_ver_5.pdf | Download |
| Year-2-Autumn-Block-4-Step-1-VF-Recognise-Equal-Groups.pdf | Download |
Showing 1-6 of 6
COMMON EXCEPTION WORDS PRACTICE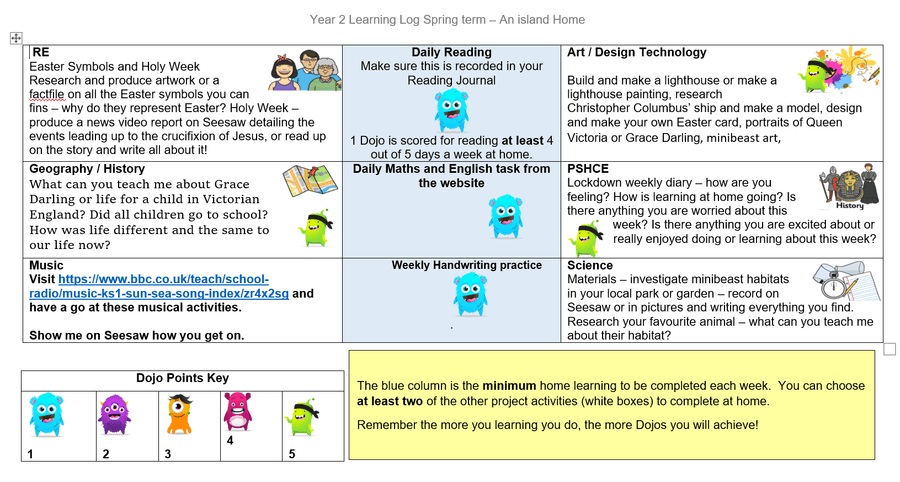 School has also signed up to an educational website called Education City, where you can play lots of games and revise things you have already learnt in areas such as maths and English. Have a look here for you username and password, but please remember, you must only log in as you! Have fun!
Follow the link here:
https://www.educationcity.com/
Seesaw login whole class QR code. If you are struggling to log on to Seesaw, try scanning this QR code and it should take you directly to our class page. Please email me if this doesn't work.
ONLINE LEARNING 2021
In this section of the Web page, I will give you some useful websites and links to help you with elements of your learning. Although it is very important to focus on your Maths and English, don't forget that we only do those lessons for the morning in school so you also need to do something creative, fun or practical each day too! If you would like to follow our class schedule, here are our afternoon lessons (unless stated a.m):
Monday - PE all morning then Maths and English p.m
Tuesday - Maths and English in the morning, then Spanish all afternoon.
Wednesday- Maths and English in the morning, then ICT and Geography in the afternoon.
Thursday- Maths and English in the morning, then Science and RE in the afternoon.
Friday - Maths and Big Write in the morning and Art, Music and finishing off Topic in the afternoon.
Practice your phonics and have some fun? Why not visit this fabulous website:
https://www.phonicsplay.co.uk/
The BBC have launched 3 hours of daily school programmes, have a look if you want: https://www.bbc.co.uk/programmes/genres/learning/primary/all
https://www.bbc.co.uk/bitesize/topics/z3tbwmn/articles/zykx6sg
Our new topic is 'An Island Home' and we will be learning all about what it is like to live on an island, some of our Literacy work in class will be inspired by the Katie Morag stories - check out some of her stories by clicking on this link:
You can also check out the adventures of Barnaby bear as he visits some islands in Scotland:
CBeebies - Barnaby Bear, Barnaby Goes to the Orkney Islands, A visit to the Orkney Islands (pt 1/2) (bbc.co.uk)
Love Geography in general? Why not check out the GoJetters and write me a report or present it on Seesaw to show me what you have learnt:
Check out a totally different kind of island home called the Galapagos Islands - have a watch of these if you want to see it for yourself. Research the animals that live there and tell me all about them -they are awesome!
https://www.channel4.com/programmes/my-family-and-the-galapagos
Can you research an island that you are interested in? You can present this however you like using a model, a Powerpoint or Word presentation or you could be a TV presenter and teach me all about your chosen island on Seesaw - I can't wait to see what you will teach me! You can choose islands you may have visited such as the Canary islands, or an island where the wildlife really interests you such as the Galapagos islands. I would love to see some artwork inspired by the wildlife on your chosen island!
Do you love Science? Check out this website and have a go at some of the materials experiments - I would love to see photographs or videos of your results!
Materials KS1 Experiments (science-sparks.com)
Love Music? Visit this website and have a go at this activity:
https://www.derbyshiremusichub.org.uk/get-involved/music-at-home/infant/1.asp
Want to do some extra work on your reading at home? Ask your parents to visit Reading Eggs and sign up for a free 30 day trial:
Coronavirus (COVID-19) - Free Access for 30 Days – Reading Eggs
Also, check out these websites for free ebooks if you want to do lots of extra reading:
Free eBook library – practise reading with phonics eBooks | Oxford Owl
School closures: free online learning resources | Oxford Owl
Need Help? Start Here (twinkl.co.uk)
5 to 8 | National Literacy Trust
You can also email me at: Ngillett@holytrinityce.rochdale.sch.uk
if you need anything at all and don't forget I will be able to catch up with you and provide you with feedback on your work via the Seesaw app too!
You can also continue to practice counting in 10s, 5s and 2s by visiting this website:
Multiplication and Division Games for KS1 Children (topmarks.co.uk)
There are also some multiplication practices and by the end of Y2, we need to know x10, x5, x2 and x3 facts off by heart, the best way to do is this practice, practice, practice and search for fun songs on YouTube that may help those number facts stick in your head.
MEET THE TEAM!
This year these are the staff that will be working with your children either in class, or extra sessions in intervention groups:
MRS GILLETT MRS ANDERSON MRS MARSDEN MR PARKER SENORITA ANDREA
In Year 2, it is very important that the children complete their homework including spellings and reading their homework book every week. At the end of the year, the children will be taking their SATs tests which include separate reading and spelling tests. The outcome of these tests supplement my end of year decisions - spelling plays a big factor in whether or not your child will reach the expected level for Year 2 by the end of the year. At Parent's evening later on this half-term, I will be sending home the lists of High Frequency words and the newer 'Common Exception words' for your child to practice reading and spelling at home to consolidate the work done in class as well as intervention groups. (Please see below for the list of words.)
It is also really important that your child reads as much as they can - these books do not need to be the school reading book, and I would encourage you to share your favourite books or authors with your children. In the next few weeks, I will be inviting parents (who wish to) to come and read their favourite children's book to the class at home time - to show children that books and stories should be enjoyed and loved! If you would be interested in this, please pop in and see me any time - the children and I would love to have you!
TIMETABLE FOR YEAR 2
Please ensure book-bags and reading books are in school every day.
Monday - New spellings will be sent home- green spelling books need to be in school today. Please learn these for a test on Friday.
Tuesday -
Wednesday Homework will be due in.
Thursday - P.E. children will need to come to school dressed in their PE kits
Friday - Spelling test, new homework will be given out.