Year One
The Year One team is Mrs Earnshaw, Mrs Belfield and Mrs Marsden. We also are taught music by Mrs Longhurst and our PE coach is Mr Parker.
PE is on a Wednesday and a Thursday. Please make sure that children have their indoor and outdoor PE kits in school on the first day of every half term. They will be sent home at the end of the half term to be washed.
Spellings are sent home on a Monday and children will be tested on a Friday. Please remember to help your child with their spelling words at home.
Homework will be sent home on a Thursday and is due in on a Tuesday. Homework will alternate between Learning Logs and Literacy/Numeracy work. Sometimes, homework will be set using the SeeSaw app. Every child will have a QR code, ensuring they are able to log into the app. This is in addition to spellings and reading.
Reading books will be checked three times a week, on a Monday, Wednesday and Friday. Please read with your child at least three times a week for twenty minutes each time. When you have read with your child, please record this in their blue reading record.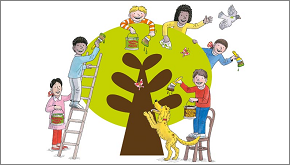 Year 1 Home Learning
Week beginning 20th April 2020
Hello everyone! I hope you are all safe and well. Every week (after the Easter holidays) I will add the learning for the week. Please click on the links below for this week's Maths, English, Topic and Science work. Please do what you can but remember to also have some fun! Try some gardening, baking or craft activities. Why not send your pictures in to us on seesaw We miss you and hope you are all well.
From Mrs Earnshaw, Mrs Marsden and Mrs Belfield.
https://www.hamilton-trust.org.uk/documents/26926/Maths_Y1_Week_1.zip
https://www.hamilton-trust.org.uk/documents/27000/English_Y1_Week_1.zip
In Science we have been learning about Seasonal change. Here are a couple of activities for you to complete this week.
Our topic this term is animals. Whist we are sad that we have missed our class trip to the farm, see if you can match the right animal to their young.